Get Noticed at Work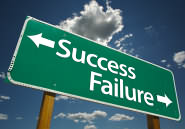 These tips can help make your boss recognize the job you do so you get noticed at work to get the rewards you desire and obtain the raise or promotion you have been striving for.
Does Your Boss Notice You at Work?
Unless you are receiving a scheduled raise from an annual review or a cost of living increase you need to go above and beyond your normal daily duties to make the bigger money. The same goes for a
promotion
. Why would they give you one unless you have demonstrated that you have capabilities that are beyond your job description.
Career Help Library >
How Do You Get Noticed at Work?
The people who succeed in their careers have done so by one of several methods. You may be able to implement one or more of these methods for your own benefit.
Luck
There is always the concept of luck, where good things happen to people in spite of whether they actively try to succeed. It does happen, but it is not something to base a strategy on.
It's Who You Know
In knowing the right people luck can also influence this method, but you can also seek out and build professional relationships with people who can shape your future. People such as neighbors, friends and family. You can also find people who will mentor you and they would most likely know others "In the Business" who can help. You never know who you may meet that can have an effect on your career.
Stretch Your Limits
Ask for tasks from your manager that will stretch the envelope of what you normally do in a workday. Demonstrate that you can do more than what is expected during your normal day. Perform these added roles efficiently and proficiently so your boss will see you are capable of so much more.
Add Value to the Company
Think of various cost cutting measures, ways to increase profits and ways to improve workflow. Instead of just trying to make it through your day look at the big picture from the company's perspective. How can you benefit the company? To ask for a big raise you will have to prove your value and show that you can be more than a team player.

Many people perform their jobs at a basic level of quality. To stand out it will be necessary to do more, to be known as the one who performs their job in exemplary fashion. When we were in school we all knew who the high achievers were, we want that type of situation now, to be known for our high level of job performance, to be the one who exceeds expectations.
Be Confident
Without acting arrogant be decisive and project an image that you know what you are doing. If you have been in your job for a while you should know how to perform your tasks well. There is no reason you shouldn't act in a way that shows you are sure of yourself.
Speak Up
Rarely do we receive what we want unless we speak up and ask for it. Most of the time all that can happen is the boss says no. The benefits can be great as many people are afraid to draw attention to themselves and ask, so they never know what could have been.
Dress for Success
Dress for success as appropriate for your profession. This doesn't mean to run out and buy new clothes but to just be conscious of trying to build an image of success. I find when people dress nice they also feel better about themselves which can also add to their confidence.
I am always seeking self-help, self-improvement tips and I think others would welcome the same. Regardless of whether you
ask for a raise
or are looking to
get a job promotion
I think most people try to advance their careers to
improve
their standard of living and to gain respect. You may also want to
get into management
, whatever the goal you have, you stand a greater chance of attaining it by endeavoring to acquire it.
Don't
stress at work
over what you are trying to achieve. There is nothing wrong with trying to better ourselves, to get noticed at
work
. If we don't grow on a personal level won't we stagnate? In that vein for more help with your career or videos about writing resumes and more visit our library.