Build a Business Relationship With Your Boss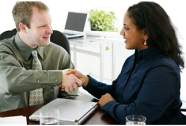 Unless you are self-employed, chances are, you will be working for someone at some point in your career, it is important to build a business relationship with your boss to help advance your career.
The relationship that you hold with that person can contribute or hinder your success during your time working there. The results of the daily blunders and successes that you experience will be affected by how the status of your affiliation with your manager plays out.
Build a Business Relationship With Your Boss
We are talking about a professional association, not a personal or romantic arrangement of course. There are countless benefits that you can achieve just for maintaining an association with your employer. Whether it be a favor fulfilled, or networking and promotional connections gained, there are quality benefits that are accrued simply from succeeding at this task.
The good thing about professional relationships is that you usually hold the power as to how they work out. Remember that associations with work colleagues are two-sided. If you show some effort and appreciation for them, you have the opportunity to achieve positive results.
Now it is understood that not all bosses are equal, and some may be more difficult to deal with than others. However, by following these suggestions and tips you may be able to build a solid and beneficial relationship with your boss.
Career Help Library >
How to Improve Your Business Relationship With Your Employer
There are a few efforts that can be made in the attempt to build a stronger association with your employer.
Go Above and Beyond
This may be obvious, but one of the best ways to accomplish this goal is to not only complete your job, but go the extra mile with all of your tasks. Doing this will help you no matter what position you hold. If your superior is a manager, your actions will make them look better, and if they are the owner of the company, then your efficiency and diligence will help improve their livelihood.

Pushing yourself to pursue more actions and responsibilities in your position will not only give you and your supervisor something to discuss, but will portray the message that you are interested in your work and dedicated to providing good job performance.
Supplement Small Talk
This next secret to success can be difficult for people because it works well when you are genuine, and if you have any issues with your boss, being friendly to them could present a challenge. Talk to them at appropriate opportunities, and take an interest in their life.

Spending time getting to know a person and demonstrating that you care is a great way to build a strong and lasting professional relationship.
Ask To Assist
Your employer has their own goals and aspirations for their career. In addition to taking an interest in that, ask them if they require any assistance to help make their professional dreams a reality. This is a perfect opportunity for you to find a mentor.

When you ask someone if they need help, especially in a professional setting they will usually accept your offer. Take this into account when trying to get on your employer's good side.
Be Proactive
Demonstrate your diligence and initiative by tackling new projects and work. Going back to taking an interest in your employer's goals and needs, discover a project related to their interests and delve into it.

In addition to creating and completing new projects, make yourself aware of any outstanding issues or problem areas in the company currently. Typically, these major problems are forced on to the manager. If you brainstorm solutions to these issues, then you are eradicating an annoying area of work that your manager would have otherwise had to handle.
Show Your Loyalty
Loyalty goes a long way in a business setting, and as an employee that is attempting to have a stable positive working affiliation with their boss, it is important that you demonstrate this character trait. You should remain loyal to not only your supervisor, but your company as a whole.

If you make it clear time and again that you are willing to stick with your company and fully respect your manager, other individuals in the company will not fail to notice that. Loyalty is one of the best ways that you can demonstrate just how much you respect them.
Building a business relationship with your boss can sometimes be tricky, and certainly requires a lot of time and effort, but by following this advice you may be on your way to improving not only your job satisfaction, but your career as a whole.