How to Find a Mentor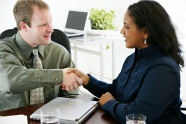 Mentor relationships in business may be one of the most beneficial connections that you can make, but approaching someone about helping to advance your career can be intimidating. You can learn how to more easily enter a mentoring relationship with the help of this guide.
Why Do I Want a Mentor?
A mentor is someone you trust, someone you can confide in and from whom you can learn. Typically, this person has a significant amount of experience and knows the ins and outs of the industry. However, regardless of why you want this type of arrangement, there is a great reason to have one.
Being able to turn to someone for assistance and advice certainly has its advantages, and frequently, you can make some of the best networking connections through these relationships.
Before you can enjoy all the benefits that having a coach can offer, you must learn how to set up a relationship such as this. Understanding how to make these connections is important, and when you find the method that works best for you, you can begin your search!
Career Help Center
Choose the Best Mentoring Style
Each person has their own style; after all, they have completely different personalities with varying circumstances. However, one aspect is similar; each of them is well versed in their field and have a desire to help you.
Some sources to locate mentors are as follows:


Academic Institutions
Professors, teachers, and teacher's assistants. This group works best particularly if you are attempting to advance your academic record.
Personal Relationships
Local business owners, neighbors, and family members. Use this group to learn how a person that you know on a personal level achieves success, not by their specific actions, but by their methods.
Professional Relationships
Managers, coworkers, and established clients. This arrangement is with someone who you may want to directly follow their actions and get to know their network, as they are most likely well-versed in their profession.

Each mentor is going to have a particular effect on your apprenticeship. Regardless of whom you choose, make sure that they have relevant experience to help you toward the advancement of your career.
Discover What You Want
As you enter this type of relationship, you must be certain about what you want to learn and get out of your time with this person. To realize what type of person will help you learn, you must evaluate yourself to determine what you want.

Write down what you need to work on in your career, your weaknesses, and your goals. Then, brainstorm to think of ways that you can improve yourself. You cannot rely on them to fix all of your problems. This situation works best when you put as much effort, if not more, into fixing your issues as your mentor.

At this point, after scrutinizing what you want from not only yourself but from them, you should be able to narrow down your choices to find the best fit for you more cohesively.
Communication is Key
Now that you would like to find a specific type of person to help you with your endeavors, get to work finding that person. Make a list of everyone that you know who could help you. Even if it is someone you aren't considering that person may have an extensive network of people that would be perfect for you.

This person must be someone you truly respect and admire. It can also be someone with whom you already have a great business relationship. The strength of your relationship will make it easier when you have a conversation with them about this topic.

You cannot come out and ask someone: "Would you be my mentor?" that turns people away and puts pressure on them. Communicate to them that you admire their work and would like to learn more about how to be like them, but not in such an unexpected way.

You may subtly comment on an aspect of their work that they excel in. If that aspect happens to be one of your weaknesses, you could say something like "I really like how well you speak with clients, would you mind giving me some pointers?" Simple questions like this will flatter the person and potentially make them want to help you.
After reading this article about how to find a mentor and after you have entered into a productive relationship, keep a regular schedule with the person, and maintain consistent communication. You won't regret your decision to become trained in this fashion. Hopefully, it will be very beneficial for you greatly helping your career. Find out more
career improvement tips
on our library.