Free Business Cards Creator
The Resumizer Free Business Cards Creator is another marketing concept to facilitate your mission to spread the word about your skills and accomplishments. Now you will have the ability to promote yourself with a mini resume that employers can refer to after they meet you. They will be useful to keep the memory of your encounter fresh in their minds.
The perfect complement to your career building tool kit. These are small enough that you can carry them with you all the time in your wallet or purse. When the right combination of events unexpectedly combine you will be prepared to deliver a summary of your skills and abilities when other prospects will be unprepared.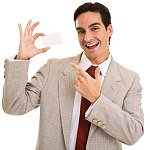 Free Business Cards Creator
Step 1 : Choose a Business Card Style
Employers will have these mini documents even before getting a resume from you. You can preempt others by putting a documented list of your skills in their hands. Use our Free Business Cards Creator to make your new free business cards. They will be like a mini resume that you can use to hand out at parties and other social settings.
There may be times where you may be in a position where you are speaking with someone who could potentially present an employment opportunity to you. It would be advantageous for you to be able to produce a free business card that contains information about you that is more comprehensive than a normal business card.
Our cards are for more than just your contact information; they are double-sided and also include a summary of your accomplishments and your special skills. The formatting is different from a regular one that advertises for a store or car dealer. You can create such a card yourself here using our Free Business Cards Creator.
Click one of the pictures below to select a style. You can come back at any point to choose another style by clicking Preview, then the Style button.
You will need to choose a card style because they don't correspond to the resume, and other document styles.