Resume Software Freeware
Resume software freeware to enable you to write your resume without spending any money. The software includes many custom options along with help and tips so you can write a great resume.
Resume Software Freeware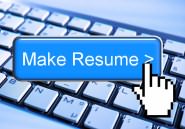 We make it a simple process to create your resume with our resume software that you can use any time of day or night. Our freeware resume software lets you export and print everything yourself. The software will enable you to create a killer resume, cover letter, and reference page. We even provide the ability for you to save it as an Eit file so you can access it from anywhere there is an internet connection.
With this no-cost service you can write, print, download, or export your resume from anywhere with a matching cover letter and reference page. There are many styles to choose from, the resume, cover letter, and reference page all use the same style that you choose so everything matches and looks professional.
Another great feature that our freeware resume software provides is the ability to write your resume using your smartphone if you desire. This resume software was written to be compatible with Apple or Android smartphones for added flexibility and in keeping with current technologies. Upon completing the creation process, there are no costs or fees to download, save, or print the resume, cover letter, or reference page. You can even make free matching networking business cards like a mini resume to hand out at parties and social functions.

We provide a help section with information pertaining to formatting, the correct paper to use, the most effective fonts to use, colors and much more. There is nothing to buy, and all the services are free.
The resume software freeware will make available to you a complete Resume Management Center that contains many essential resume tools and our
Career Help Center
. The Resumizer resume software freeware offers many custom options to tailor your
resume
to help you land a job. Resumizer freeware will enable you to write your resume without spending any money or jumping through hoops to do it. The software includes custom options along with help and
tips
to enable you to write an effective resume.