Resume Checklist to Simplify Your Writing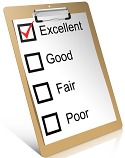 Gather and organize your information for your resume with our resume checklist. A resume checklist will help simplify the writing process by having all of your details in one convenient place. If you choose to use our
Free Resume Creator
program, you will finish this job more quickly. All of your information will have been gathered and organized beforehand. You can also use this resume checklist should you choose to write it manually. We have organized the resume checklist to present your information in the order our Free Resume Creator program accepts it to simplify this task even further.
Get Organized With a Resume Checklist
If you prefer you can also use our
resume questionnaire
instead of this resume checklist as another means to gather and organize your information. This checklist can also be printed to complete it at your own pace. The benefit of using it will be clear when you are ready to start writing. You will have all of your information on hand and ready to go.
Career Help Center
The Sections on Our Resume Checklist
Your Contact Information
Add in your name, address, telephone numbers, and an email address that doesn't sound childish and unprofessional. Don't present yourself as a goofball right off the bat before you even get to the interview. You will never get there! Professionally present yourself even if you're applying for a low skilled, low paying job. Your reputation is important no matter what job you seek.

Always do your best, no matter what it is that you are doing. Each field has its level of what is considered normal professionalism. It would help if you found out what level that is. Then display that level yourself in the way you act, speak, perform your job duties, and the way you write your information on your resume. Be the complete package.
Employment History
You can include up to five previous jobs you have held. The jobs you had, and the one you want will determine the order you will list your previous jobs.

If you have many jobs in your history, pick out the ones that would most support the job you want to get and put those near the top of the page. Put your most related jobs first. The first items the employer will see are your abilities that can be used to perform their job, which makes you look more valuable to them.
Education History
You can include up to five schools you have attended. You may want to put the more relevant education at the top of the list if appropriate to do so. The same as with your employment history, put the schools, degrees, or training that would be most valuable to the employer at the top. If your education and work histories encompass one career field, this task becomes an easier one since everything is related. Still, you want to put your best stuff first.
Additional Items
Include any relevant awards, certificates, or clubs in this section. Even in this section, the best facts go first. Keep that in mind, when you are adding your information in every section.
Formatting
You will need to think about the order in which you would like your information to be presented. Depending upon what you have in your career arsenal, meaning your work history and education, each person will organize their information differently. If you have lots of education and lots of experience, then this is a matter of taking the best parts and arranging them well. That will uniquely support your argument that you are the best person for the job.

For those that have more education, but are light on work experience, you can put your education at the forefront. Likewise, if you have worked in your field for many years, and were trained on the job or had minimal schooling, promoting your on-the-job training might be the best way to go.

Are you in a position where you don't have much of either? This deficit presents a greater challenge; these days college degrees are the norm and not the exception like they were decades ago. Even then, out of the workers that did have a college degree, it was more commonplace to have an Associates degree than a Bachelors degree like it is now. The only options are to use what you have or go out and get more training and work experience.

In the short-term, this isn't practical unless you can find an intensive training program or several short-term internships or volunteer programs. We didn't even mention the costs involved with going to school and buying books. Fortunately, interning and volunteering are almost always free, although you never know there are usually exceptions to the rule.
Logo or Photo
Sometimes it can help to include a logo or a photo depending upon whether it is appropriate for the position. If you are a graphic artist, a model, or an actor or are in some other visually driven field using an example of your work or a photo might reinforce your information.
This article should give you a basic idea of the thought processes involved in organizing your information to make an effective resume. For more help click the link
here
.