Resume Questionnaire to Simplify Your Resume Writing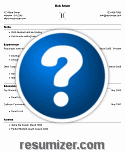 Get our resume questionnaire to simplify your resume writing. Download our questionnaire for an easy way to gather your information together simplifying your resume writing; use it with our Free Resume Creator. This resume questionnaire will let you answer the questions at your leisure. You can then transfer the answers to our Free Resume Creator program where you can also choose your style and colors. You can even add your photo if you wish. The program provides many more options than what this provides, but you will have the bulk of your information right at your fingertips.
Simplify Your Resume Writing With Our Resume Questionnaire
Upon entering your answers, the Free Resume Creator program will do all the setup and formatting for you automatically. You can then switch between styles, colors, and more, at will to create the best
resume
for your particular situation. Moreover, we don't charge you a fee for any of it!
Career Help Center
Get Our Resume Writing Questionnaire

Download Resume Questionnaire
Right-click, Save As … to download.
Aside from a free resume you can use our other complimentary services: