FREE Resume Creator Online
FREE Resume Creator Online write and print your resume in a few simple steps, many styles and options with tips to guide you. Easily update and edit your resume, no fees or memberships required.
Resumizer the Free Resume Creator online since 2006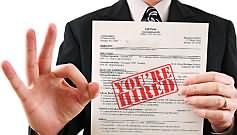 Pick and choose from the many options the Resumizer Free Resume Creator online provides to create a professional, customized resume to facilitate your employment application success. Our free resume creator offers professionally designed resume layout styles, with provisions for your educational and employment histories, and sections to enter your skills and qualifications. Enter your contact information, including your name, address, phone numbers and email address. You can also enter your social media profile address for an additional point of contact. Selections are available for your choice of font, text color, and accent color.
Resumizer's Free Resume Creator enables you to preview your resume at any point in the creation process. Upon completion, you can print your resume online, post it, send it, save it or download / export it (to email it or print copies later). The process of editing your free resume is easily accomplished at any time during or after its creation. We provide you with help and tips so you get the best possible result from our Free Resume Creator. We explain how to write a resume, the guidelines for a proper format, the correct use of action verbs and easy printing tips.

There are many options available for you to customize your resume. Use the options you like; leave the others blank. Each section has plenty of additional space to include any special details that you require. You can easily preview your resume as the creation process unfolds. The best part of the Resumizer resume maker system is that you can return later to edit your resume should your information change or if new information needs to be added. For do-it-yourselfers Resumizer has Word templates that you can download.
All this and more for no cost, no memberships, and nothing to join, since 2006! Find out more
about Resumizer
or read some
testimonials
written by our users.
Resumizer the Free Resume Creator Benefits and Features
No cost to use, no membership is required, there is no need to join, just come and use it whenever you wish.
Your document can be immediately saved, sent, posted (hosted), printed or downloaded (export) for use later.
Your info can be easily edited and updated as needed. Please visit us any time to access your free resume.
Choose your favorite design from our collection of professional layout styles.
The application has built-in tips and suggestions to help you write your document.
The font, text color, and accent colors can all be selected according to your personal preference.
Your photograph, a monogram, or a social media profile picture can be included if you desire.