Get a Job Without a Four-Year College Degree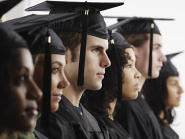 We dispel the myth that you can't get a job without a four-year college degree and that it's only possible to get a decent job by having a Bachelors degree or better. If you take a look at some of the most famous and wealthy people, many of them do not have a standard four-year degree. Most companies expect every individual in the business world today to have one. There are plenty of well-paying jobs that you can get with on-site training, or two-year degrees, you have to know where to look for them.
Is it Possible to Get a Job Without a Four-Year Degree?
Some of the most popular jobs that require limited to no formal education are listed below for you to discover some career potentials that may be out there for you. However, it is best to know some approaches to obtain those positions.
Career Help Center
Can You Get a Job Without a Four-Year College Degree?
Get a Job without a Bachelors Degree
Searching for a job, especially when you have a limited formal education can be scary in this current economy. It seems that everywhere you turn, you need to have a four-year degree for management to consider you for a position. There are some positions out there (more than you think) that pay a pretty good salary but require no higher than an Associate's degree or less.
Evaluate your Skills
Determine what kinds of skills and trades that you have mastered to understand how to apply them to new fields and positions. If you have a certain skill set or talent, explore your options to see if there is an official certification that you can get. This documentation will give you something tangible on a resume.

After you have determined what kind of skills can make you money, see if there are any adult learning programs in your community. Look for inexpensive college courses that you can take to perfect that skill.

After those courses, you may not have a full degree, but you will have something that speaks to your incredible talents during an interview.
Network
It may seem like a simple thing to say, but you don't have to be a businessperson to network. Anyone and everyone should adopt this practice to meet relevant and powerful people in your field who can open up opportunities when it comes to job positions.

Get involved in career circles with online networking, and attend events in your local community. You can seek out individuals who would be beneficial to get to know, and who may help you get a job in the future. Additionally, you could hand out networking cards at the functions you attend.
Get Creative
If you have an idea for a job position or a business, get in touch with the right people to make those ideas materialize. Sometimes you have to gather your courage to make things happen to create a job for yourself. Talking to business owners or investors about your ideas for a job position and discussions with newly accumulated networking contacts may be the right formula to get you hired!
Well Paying Jobs without Four-Year Degrees
The jobs listed below require two-year college degrees. However, most can be completed through community colleges for a meager price compared to a university. Also, some positions rely on skills or on-site training. Take a look at these jobs to see if something is of interest to you. Of course these salary estimates will vary depending upon your location and other factors.



Dental Hygienist: With an average salary of $65,000 and only a two-year degree required, this is a very good investment.
Advertising Manager Online: You can essentially start your own business with only self-training and no formal degree if you do this right, and at an average salary of $86,000 you can't go wrong!
Medical Secretary: If you are a people person and a quick learner, you can make an average of $30,000 with this low education requirement career.
Surveyor: With on-site training you could be making an average of $55,000 working this job.
Paralegal Assistant: In this professional setting your income could range from around $45,000-$47,000.

The Next Steps
Now that you have explored some of the salaries and the education requirements that are out there, you can get a feel for the various opportunities that are available to you. With this help guide describing how to get a job without a four-year degree, you may be on your way to a well-paid position! Need more career help? We have much more!