How to Write a Resignation Letter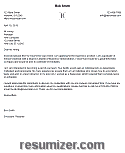 How to write a resignation letter by learning to properly format and set up a resignation letter so that you may respectfully resign from your job to stay on good terms with your employer.
Write An Effective Resignation Letter
Resigning from a job can be a difficult situation to handle, and if you adhere to the correct procedures, your departure will inevitably include the composition of a resignation letter. These letters are often brief and minimally detailed, but they remain as an important gesture from an employee to a manager. Use this guide to properly format and create a respectful one.
How to Write a Resignation Letter Guide
Career Help Center
How to Write a Well-Written Resignation Letter
Give Notice
Being courteous at a time in which you have decided to leave your place of employment is of the utmost importance to maintain a professional and cordial disposition.

Never plan to leave a job without first giving notice. Leaving without giving notice is considered rude and gives your manager the impression that you are unappreciative and you never really cared about the company. You can obtain some additional insights into how to quit a job by reading the associated article.

The best way that you may notify the business of your departure is in-person as well as with a completed resignation letter.
Express Gratitude
Even if you had a bad experience during your time with the company, never forget to thank your employer for the opportunities they have provided. Mention any experiences you have gained or career training you have learned from the people with which you have worked. Leave on good terms you may need a letter of recommendation for a future job.

Refer to our resignation letter examples to learn how to incorporate a voice of gratitude into your writing.
Letter Formatting
Below is a sample template as well as instructions on how to correctly format a resignation letter. If you are still having trouble you may use our creator program by clicking the "Start" button below.



Sample Template





Your Contact Information:


Your Name
Address
City, State Zip
Phone Number
Email

[2 Returns]

Date

[2 Returns]



Employer Contact Information:


Name
Title
Business Name
Address
City, State Zip

[2 Returns]



Salutation/Greeting:

Dear Mr./Mrs. Employer's Last Name:

[2 Returns]



Opening Paragraph:

Begin with a sentence stating your resignation and the date in which your final two weeks begins.

[2 Returns]



Main Paragraph:

This second paragraph is optional, but recommended. Thank your manager for everything they have done for you during your time with the company.

[2 Returns]



Closing Paragraph:

End your letter by explaining that if there is anything that you can do to assist with the transition process you will be there to help. Wish the manager all the best for the future.

[2 Returns]



Closing:

Sincerely,

[2 Returns]

Sign Here in Ink

[2 Returns]

Type Your Signature Here
Use a common
font
such as Arial, Times New Roman, or Verdana with a 12pt size. Stick to the standard one-inch margins on all sides of your page. Of course, you should take the time to proofread your letter carefully. Even though you are leaving the company, you never know if you may require something from them in the future.
You will want to maintain your professionalism throughout this process. Treat your supervisor and coworkers with respect. Demonstrate that you are of high moral character. The way you exit the company is as important as the way you entered. Be worthy of their respect; these people will be your references for potential future jobs for which you have yet to apply.
Knowing how to write a resignation letter, manually formatting it and putting it together so you can resign is a great skill to acquire. However, you can make it easier on yourself by taking advantage of our
Free Resignation Letter Creator
. Insert your data into the program, and you will create a complete and correctly formatted letter instantly and at no cost! You probably have many things on your mind; at least finishing this task won't have to be one of them. Get started now!