Resume Cover Letter Free to Create, Print and Download

Resumizer resume cover letters are free to create, print and download. Our system will help you write an outstanding resume cover letter with no limitations or gimmicks. Our Free Resume Cover Letter Creator is free for you to write and create your pages as needed; you will not pay for the documents that you write. We will never ask you to join to receive them.
If you prefer anonymity, you can use our creators without membership, without storing any of your information in a database. If you use our system, which is perfectly acceptable, you will
NOT
be penalized with a reduced quantity of templates you can use or a limit to the number of pages you can make.
Career Help Center
Create Your Free Resume Cover Letter Now
Resumizer will give you a place to start and
help
you
write
your resume cover letter from start to completion. We provide you with many versatile
templates
and
examples
that merely call for you to insert your specific details to adapt them to fit your needs. There is a wide range of choices to optimize your resume cover letter to enhance its relevance to your job position and industry.
You can start by picking a style that you like then move on to add your contact info. Review our built-in letters. Your info will be seamlessly inserted into them, preview each one, then simply pick the one that best promotes your agenda.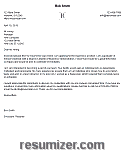 It is a simple matter to create your own free resume cover letter even in the middle of the night or by using your mobile device, smartphone, or tablet. This system is compatible with mobile
smartphones or tablets
that have an Android, iPhone, Windows, or other operating systems. Of course, you can always use your desktop or laptop. This versatility enables you to create your free resume cover letter from anywhere. And, the fact that there are no costs makes this
free
system great!
You don't need to go it alone! We are here to help, and the fact that you don't have to pay is fantastic. This service is our way of giving back to the community. We also like to get things for free when we can. This site is our way of giving back to you, our guest. Here is an opportunity for you to get something of quality for free!
There are many more services we offer you may use any or all of them. We also have tutorials and videos in our Career Help Center. So, take advantage of this opportunity if you need it. We haven't put a time limit on this offering, but it is here now so use it if you need it! Click the button here to get started: