How to Write a Green Resume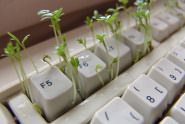 How to Write a Green Resume: Learn what you should include as you write a resume to project a green appearance during your search for an eco-friendly career. Also, follow some tips on how to be green during the interview process.
How to Write a Green Resume
Incorporation of green elements has the potential to help you during your job search for a green career. Keep in mind that typically these techniques are used in conjunction with an environmentally friendly degree.
The world of employment is now turning to "green" collared jobs, and employers are looking for dedicated individuals who are willing to show their commitment to changing the way we treat our environment based on something as simple as a resume. Of course, these methods must extend beyond the scope of just the resume; demonstrating certain aspects of an environmentally conscious lifestyle is a great start to a new career.
Career Help Library >
How to Write a Green Resume
There are several things that should be included to display your environmental awareness before you even meet with a potential employer. If an employer asks to see a paper copy of your documents, politely ask if they would accept a more sustainable electronic version. If the employer still insists, print your portfolio on quality recycled or post-consumer waste paper.
Perfecting the E-Resume
When you send an electronic version of your resume, be sure that you know the proper procedures and etiquette of emailing such critical documents. When you send an email to a recruiter, be aware that it could become lost in an inbox. Make the subject line of the email direct, but not spam-like. Additionally, in your email you should not send your resume as an attachment unless instructed otherwise. Out of fear of viruses and other problems, people are hesitant when downloading files. Copy and paste it directly into the body of the email, and avoid including fancy formatting or elaborate fonts. Stick to the basics.
Getting Noticed for Eco-Friendly Commitments
After your physical resume is situated, it is important that the contents on the paper match what you are portraying as your lifestyle. Here is where you include everything about yourself that is considered eco-friendly, potentially helping you land a position.

For example, if you belong to any eco-friendly clubs or organizations such as the Sierra Club, or any work related club, list them. If you have been involved in any non-profits or have worked with any environmental programs explain your experiences.

Even the simplest affiliation could mean a world of difference when it comes to getting hired based on environmental experience, so list everything you can think of.

However, don't be discouraged if you do not have any qualifying "environmental" experiences. As far as employers are concerned, experience is experience, and even eco-friendly firms require all types of employees. Showing determination and a sustainable outlook on life you could have enough experience for an environmentally aware company to be interested in you.
Choosing the Right Words
There are certain buzzwords and phrases going around in the eco-friendly world right now. Demonstrate that you are up-to-date with what is happening in the world today by using some of this lingo. You will appear current and interested in the topics.

Some buzzwords that you could add situationally include:

"Green Growth" - This phrase may also show up as ecosystem services. This simply defines the benefits that natural systems provide to human settlements.
"Greenwashing" - A way to describe a situation in which a company participates in an environmental initiative only to hide previously deleterious actions toward the environment.
"Precycling" - A method used to avoid wasting resources by skipping extra packaging. Not only does a company save money, but they can eliminate waste as well.

These buzzwords can be added to a resume, but work best during conversation. For example, if during an interview an employer asks you about a relevant environmental topic in the world today, you can respond and slip one of these into your answer.
Green Your Career
Learning how to write a green resume and
getting noticed
is the first step toward a green career. The next move comes during the interview. You need to show the recruiter as well as the company that you believe in the values that you included on your
resume
and practice certain values that come into play with having an eco-friendly lifestyle.
Show That You Care
If you are seriously considering an environmentally friendly job then you need to have a specific lifestyle. Caring about the planet versus only acting like you care are two completely different things. If you have a genuine interest in preserving the Earth, then you should have no trouble showing these values during an interview. Explain why you feel the way that you do and justify your fit in their company by displaying your similar values.
This green career must mean more to you than just the paycheck, so show that to employers by discussing all the good you have done in your community. You want to do your part to help change the world!