How to Write a Personal Statement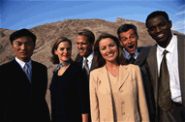 Learn what to include in an admission essay. Discover how to write a personal statement and determine the tone in which you should be writing. Catch a recruiter's attention with a well-written, persuasive personal statement. Start your path to
improve your career
, use every resource you can to get into the school of your choosing.
How to Begin Writing a Personal Statement
A personal statement is your opportunity to delve into your personal story and explain to an admissions representative why you want to attend their school or program. You will explain in writing why you are the perfect fit for a slot in their graduate program. Many people are going to try to enter the same program that is also of interest to you. This document is your opportunity to use your life story to explain how you rose above adversity and became a better person because of it. Your story will persuade them that your attendance at their school will be an asset, and you are the best-qualified choice. Once you are confident that you do indeed know how to write a personal statement it will be less difficult for you to do.
Career Help Center >
What Do You Write in a Personal Statement?
The sections below outline the parts of this document to include. This page is a formal document and should be written as such using business etiquette.
Your Beginnings
Elements of your life that make you stand out (origins, traumatic/inspiring experiences) should be mentioned and perhaps focused on in your opening paragraph. How have your experiences shaped your professional decisions?
Your Interests
How did you become interested in your field of study? Take this paragraph to show what and where you have learned about your preferred subject (readings, courses taken.)
Your Experience
Paint a picture of your work and volunteer experience related to your field. However, don't just list your accomplishments, explain the ways your work and research have contributed to your growth. Relate every experience to how you can see yourself benefiting others in your prospective career.
Your Resume
Aspects of your resume will be interwoven in paragraph form in your writing. So in addition to academic facets, emphasize your characteristics that helped you attain your scholarly record. Mention your integrity, leadership, and communication skills. All these assets are what these programs are looking for in a student.
Your Choice
Explain to the school why you are a great fit and why you wish to attend their institution. Persuade them with compelling reasons as to why you should be selected.
General Tips
Be Unique
If you are applying for multiple schools they may ask similar questions, but do not use the exact same statement for each school. Attempt to personalize it depending on the school you wish to attend. It may be more work, but the reviewer will appreciate your dedication to their school.
Paint a Picture
You want to tell a story with your writing and keep the reader interested and attracted to your life story. There must be a distinct reason for your choice of career. Tell the reader about your future goals and how you initially discovered the prospective field. Oftentimes a recruiter who is reviewing applications was in your position once, make them remember what it was like to be in your shoes and remind them that they too fell in love with their field of study.
Proofread
Always write well with correct sentence structure, syntax, spelling, and grammar. It will make you look bad to have a typo or spelling error on an important document like a personal statement. This isn't the time to appear as a person who is sloppy and careless.
Wrap It Up
The conclusion of your personal statement is probably the most important section of the entire essay. The conclusion is the last impression that you will be able to make on your reader. Use persuasive and decisive language to make your point known. Make it very clear why you would like to go into the field. Use your conclusion to tie all of the major points that you have made in the body paragraphs together. Please don't leave the reader feeling you are talking at them but to them. Make them feel as if they were speaking with you in-person. Keep your writing positive and inspiring, and don't forget to mention your enthusiasm about the subject.
We hope that you now know how to write a personal statement so that you may move on to the next steps in your professional life. Good luck during the admission process, and don't forget to tell your story well!