When to Use a Resume Versus a Curriculum Vitae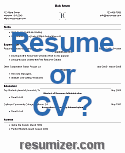 The position the job applicant is seeking and what is customary for that field determines when to use a resume versus a curriculum vitae, find out when each is appropriate to use.
Everyone is generally familiar with resumes, their purpose, their formatting, and styles, but what about the more uncommon type of portfolio document, the CV? CVs have various purposes depending on what field you are in, as with a resume it is equally important that you complete them correctly.
A Resume or a Curriculum Vitae When Are They Used?
While these different documents have various purposes, it is still important to mention that you will include much of the same information on both. Because they are both used to get hired, they are very similar. Following the rules and guidelines for writing both of these types of documents will give you the most success during your job application process.
When you are applying for a job and are unsure of which form of career identification, the organization is going to be expecting, preparation is best. Research the position ahead of time to determine which form is typically accepted.
Career Help Center
Resume Versus a Curriculum Vitae
As mentioned previously, both documents contain similar information but are socially accepted at different times and for varying purposes. The suggestions listed are general guidelines intended to help those applying for a job. You could always double-check with the company if you are unsure of which document you should use.
When should you use a Curriculum Vitae?
The toughest question that often confuses people is when it is correct to use a CV instead of the typical resume? A CV is used most frequently in academia because it is much more descriptive than a resume because it goes into much greater depth with your accomplishments and qualifications.

If you are applying to a graduate school or a job in research (no matter what the subject) these schools and businesses generally want to see your CV. This document will explain to these institutions all the hard work that you put into your studies and independent research endeavors.

Another situation where you use a curriculum vitae (especially in America) is when you are applying for an international job. In the United States, the resume continues to be the dominant form of identification for the job application process. However, in other countries outside the US, the CV is more widely used.
What is the difference between a resume and a CV?
Two major differences to briefly touch upon are the length and content of these documents. A resume is typically no more than two pages (preferably one page) where a CV can be several pages or more in length. This difference has a lot to do with the depth of the content that you will include in these documents.

A resume focuses mainly on education, job positions, and volunteer opportunities in which you were involved. A CV describes all of your academic achievements, research participation, as well as your educational development.

Both documents are considered summaries of your professional life. However, think of a CV as a less concise, more detailed resume centered around the publications and awards you have received. For example, if you have published many abstracts and theses, you should list all relevant publications even if your CV carries on for several pages.
What should be included on your CV?
Your CV can be tricky to write since it is so foreign to many individuals, but you should include certain items while writing and exclude others. Similar to a resume, your CV should include all of your basic contact information such as your name, address, phone numbers, email address, and any other important details about you.

Additionally, you should include all of your research, teaching experiences, and professional associations. As well as any certifications and degrees you have received, preferably starting with your highest level of achievement. Any publications, talks, or papers that you have submitted to professional organizations to be published should also be listed.
A CV is both similar to and different from a resume, our goal was to help you more clearly understand when to use a resume versus a
curriculum vitae
. CV's can help demonstrate your hard work and commitment to research and academia, and when presented, impressively can help you obtain a position. Click Start to build one for free.