Write a Resume for a Temp Job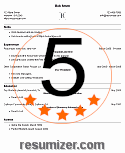 Temporary work is becoming more and more common in today's market. With unsteady job positions and recent college graduate uncertainty, temp employment can be a viable entrance into the workforce.
You Can Write a Resume for a Temp Job
Temp employment provides employees with short-term, well-paying positions that avoid long-term commitments, while still providing a valuable addition to a resume. It can sometimes be a confusing situation when adding a temporary position to a resume. You are expected to include different formatting and information which are not the same as a conventional type of employment.
The reason this type of work is more difficult to include on a resume is that every time you pick up a new position, you are typically working for an entirely different company. If you had several temp positions over the past few months, then you are going to be listing multiple companies in your employment history section. These listings will make you appear to be a "job hopper," which is someone who continually changes jobs.
You want to avoid presenting yourself like this at all costs. Hopping hastily from job to job discredits your ability to be loyal and does nothing to demonstrate that you have the character to commit to a company. When you apply for a full-time, long-term position, these are traits for which they are looking.
So naturally, many questions come up when listing temporary employment. Should you list the individual companies for which you have worked? How about the projects on which you had worked? How do you turn a mess of information into something that is neatly displayed for employers to read?
Career Help Center
Write a Resume for a Temporary Job
There are a few formatting rules that you should stick to when you are listing temporary work:
Working Many Jobs Through a Single Agency
If you have worked for different companies, and they were all assigned through a single agency, you may list the name and contact information for the agency rather than for each company.

List the companies and the responsibilities that you had in the description of the agency. To further supplement the description, include the duration of time and the dates that you worked at each company you were sent to by the agency. You can even elaborate and describe that you worked on the assignments of particularly important clients.

Listed below is an example of what could be included:


Best Employment Agency - New York, NY (January 2023 - March 2023)

Acting Salesman, Company Name (January 2023 - February 2023)

• Performed daily tasks of speaking with clients and closing approximately 10-20 sales of units over the phone.

Retail Associate, Retail Company Name (February 2023 - March 2023)

• Manually assisted with the replenishment of merchandise throughout the store as well as utilized customer service skills to assist customers with purchases.

[Keep adding companies that you have worked for in this list format.]
Working Fewer Jobs Through a Single Agency
Sometimes instead of having many positions, the agency will secure you with a longer term assignment that is still considered temporary work. This circumstance creates a different situation for the way your information is displayed on your resume.

Since you have longer term commitments, you can list the individual companies where you have worked. You should only include your information in this style if you have secured a position for six months or more.

Observe the slight differences in the way the we listed information in the example below:


Retail Associate, Retail Company Name (July 2022 - Present)

• Assist customers with their retail needs.

More achievements/skills

[Keep adding companies in this list format, but avoid including more than three within a short timeframe.]
Some people are hesitant to include temporary employment, but there is nothing to be ashamed about if you take on temp jobs. If there is no other option for you, at least you decided to be employed.
It would help if you listed your temporary work in whichever format works for you. Not including it could imply that you have an
employment gap
which would give you another problem to solve. You do not have to explain that your work was provided through an agency explicitly. If they ask you do tell the truth because neglecting to say that you used an agency is dishonest.
Many people use temporary employment in this ever-changing workforce, but what people are unsure of is how to include it properly. You should be able to properly display all of your
experience
, no matter the type by using these techniques and
formatting
to write a resume for a temp job. Click the button here to get started: