10 Cover Letter Mistakes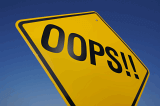 Cover Letter Mistakes that are easy to avoid, you just need to know about them! It is important to be sure that your cover letter delivers a message that you want to convey, free of mistakes and errors.
Common Cover Letter Mistakes
This is the first opportunity you have to entice an employer to read your resume. Treat this document as your opening statement to promote yourself by expressing, in paragraph form, how you will be an asset to the organization.
Career Help Library >
How to Fix These Problems
Grammatical and Spelling Errors
The first issues that we will address are poor grammar and incorrect spelling. Nothing shows carelessness more than not taking the time to ensure that you have correctly spelled words. Spell checkers are abundant so there is no excuse for mistakes. Grammatical errors can be a little more difficult to uncover. If you are not proficient at writing composition, ask others to proofread it for you. Don't show a lack of concern by not correcting these problems before your potential employer sees it.
No Cover Letter
Although it might seem obvious, some applicants fail to include a cover letter with their resume. Or they will write something useless such as, "enclosed is my resume, please contact me at XXX-XXX-XXXX." This is completely ineffective and does nothing for self-promotion. Our free creator program can get you started with templates that you can rewrite and modify. If you have been directed by the employer not to supply one, then skip it.
To Whom It May Concern
Do your homework and find the name of the person you are sending to. Don't simply write "Dear Sir or Madam," or another generic, cookie cutter salutation. You don't want to appear to be lazy and/or unknowledgeable. Take the time to check the job posting or call the company to find the contact information. More about this and how to write a cover letter.
Include Action Verbs
Instead of writing in a usual and boring way, try to include action verbs to add some excitement and vitality to your accomplishments. A thesaurus is a valuable aid when trying to replace tired verbs for action verbs. A look at our list of action verbs will give you some options to use.
Optimize With Keywords
When your letter is being read whether by a machine or a person you want the key features to stand out. One way to promote your accomplishments is to add keywords derived from the company's literature or job description itself. You want to write so that your skills and achievements are on par with the needs of the company. More in-depth info about keyword optimization.
Too Generic
Write focusing on each individual job. In other words, don't use the exact same letter for each job. It is better to customize it addressing the wants and needs of the employer, as well as the requirements of the individual job. You can employ keyword usage as described in point #5 above to customize your information to apply to each job.
Important Points First
Use attention-grabbing language so if the employer only reads the first sentence they will want to read more. Make your statement so compelling that they want to read your entire resume to find out more. Write about how you can benefit their specific company. Use examples of your accomplishments to demonstrate your worth. Don't be vague, get to the facts, this is where you can start to sell yourself.
Factual Errors
Exhibit your knowledge of the company, do some research. Be sure that the information you write about is accurate. Establish your professionalism by making sure that it is apparent that you have done research on what the company is all about. This is discussed more in the cover letter writing video.
Is It the Right Length?
How long is it supposed to be? The next to the last of the 10 cover letter mistakes is one of the most subtle. We wrote an article about how to write a cover letter which discusses the various parts of the letter and what to write in each part.
Emailing
If you are emailing this to someone, send it to the proper person, not just to a general department. Also, send it in the actual body of the email, not just as an attachment. It IS the email, not an accessory to it.

With the know-how you received about these 10 cover letter mistakes your writing and composition skills should be improved. Now it is your mission to make the employer eager to read that resume! The
free cover letter creator
and
career help
section contains more tutorials, guides and
videos
to help you
find the best career
.