Reference Page Help: How-Tos, Video and Tutorials
A reference page is an element of your professional portfolio that is not necessarily in the foreground during the job search process. However, it is no less essential than your resume or cover letter. The different facets of reference page writing are contained in these easy to follow tutorials and a video.
Get Help With Your Reference Page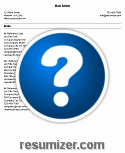 Our video tutorial is a helpful guide that we describe as a succinct outline of the overall writing process. It covers the many aspects of creating a comprehensive reference page. The simple instructions spoken throughout the video make this process easy to complete.
In addition to video tutorials, there are many written tutorials and helpful hints to empower you to create the best reference page that you can. With titles as specific as "How to Choose References for a Job Interview" or "How to Ask for a Letter of Recommendation," you will get answers to your questions when you discover our help library.
Lastly, there is an emphasis placed on the potential mistakes that you can make if you are writing this page for your portfolio. We specifically outline these mistakes in our articles; they can also be observed and potentially avoided through the many examples that we provide.
Making use of this reference page help can set you up for success in your writing. Through the use of the tutorials, a video, and a list of mistakes to avoid, you could be on your way to a more appealing portfolio. Although these documents are less talked about than resumes and cover letters, they are vital nonetheless. If you do not properly write these documents, they can hinder your chances of being hired. The focus here is to do all you can, to be the best that you can, and to be able to convey that to an employer.
Career Help Center
Reference Page Resources
Your reference page is a very important document in your job acquisition arsenal. In the days of paper documents you would write this then print it. Now oftentimes the application process is performed through an online form on the company's website. Even if you are not physically hand delivering or mailing this to the employer you will still need to complete it.
As you complete the online job application you will normally encounter several places where you will be asked for a few references. It is important that you compile these references ahead of time so you are prepared while completing the form. The recommendations you provide can sway the opinion of the employer to whether you will be hired or not, so make them count. This page also offers information about how to choose the people whose recommendations are most valued to enter into these forms.