Electronic Resume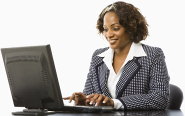 Get an electronic resume, it's another way that you can promote yourself in the job market. Posting an electronic copy of your resume online advertises your skills and abilities to employers searching the web for someone with your qualifications.
Forget Paper, Get an Electronic Resume
If you don't have an electronic resume you are welcome to create one here at Resumizer. Employers type the various qualifications that they are looking for into sites like LinkedIn. If your electronic resume matches their criteria, the opportunity to be considered for a job is possible.
This system is a benefit because if you have posted your resume online in other places, Resumizer will provide you with a location to create an electronic resume for free. The best part is that there are no costs or fees involved with using any of our services. This benefit is remarkable because this is generally not the way a site of this type operates. We are pleased to offer these services and the help library to you free of charge.
Career Help Center
Electronic Resume and Cover Letter
Now on to some important items to include when creating your document.
Now this list of features that are important to the career building process has been brought to your attention. At this point, it is up to you to determine your own needs and desires and to locate a place that meets your needs. We at Resumizer are happy to provide great services and continually update them with new features as career trends develop. You can begin to create yours by clicking the START button here: