Electronic Resume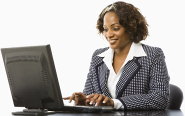 Get an electronic resume, it's another way that you can promote yourself in the job market. Posting an electronic copy of your resume online advertises your skills and abilities to employers searching the web for someone with your qualifications.
Forget Paper, Get an Electronic Resume
If you don't have an electronic resume you are welcome to create one here at Resumizer and post it in our
Resume Directory
. It is completely searchable by employers and appears in the search results of internet search engines. Employer type the various qualifications that they are looking for into sites like Google, Yahoo, or Bing. If your electronic resume matches their criteria, the opportunity to be listed in their search results is possible.
This system is a benefit because if you have posted your resume online in other places, Resumizer will provide you with yet another location for employers to discover you. The best part is that there are no costs or fees involved with using any of our services. This benefit is remarkable because this is generally not the way a site of this type operates. We are pleased to offer these services and the help library to you free of charge.
Career Help Center
Electronic Resume and Cover Letter
Now on to some important items to include when creating your document.
Use Keywords
Browse through the job postings for jobs that are of the type that you want to find. Pick out important terms that relate to that job. Be sure to work them into what you are writing, into each of the sections of your electronic resume.

If you are using an objective statement, work them into that. Put them into the Education and Experience sections where you describe what you have learned and what you have done to bring you to this point in your career.

Be sure that when using this keyword optimization technique that you write in a natural sounding manner so as not to appear that you threw the right words into your sentences. You want your skills and education to come off as credible and believable, not manufactured.
Spelling
Simple to fix items like spelling mistakes are often overlooked, with spellcheck being such a common feature nowadays there really is no reason for this to occur. Also, while you are at it run the grammar checker, you want to look like you at least had some schooling.
Individual Page Address
A nice feature is that it has a page with its address. You are not sharing the spotlight with others as a member of the HR department reads your details. You can also use the address in correspondence with companies, and on any social media pages, you may manage. Before doing this, you may want to take a look at our social media tips article to make sure your social media page is business appropriate.
Ease of Use
It is important that the place where you post your electronic resume possesses a simple to use interface. You want to be able to make quick tweaks and updates without having to read a full instruction manual first. To have an intuitive interface will free up your time to let you look for a job instead of trying to figure out how to get the system to work.
Help When You Need It
Nothing is more frustrating than creating a resume or building a cover letter, then have problems creating it, and there is nowhere to go for help. We had that problem ourselves and have encountered the same frustration. Although Resumizer is a free service we do offer help in two forms:

We have an extensive career help library covering topics from resume writing to how to dress for an interview. Between the articles, tutorials, and videos, there is surely something to help you with your problem.
We also offer email technical support for problems related to the site, one of our online creator programs or our directories. Resumizer doesn't offer individualized help with writing your electronic resume or cover letter. We designed this system as a do-it-yourself system, but we will help you with login issues or if you have a problem using our services.

Management Suite
To further simplify the job search process, we have one place to create all the documents necessary for job acquisition. You may want to post your electronic resume in other places on the web, but in our opinion, Resumizer is the best Free Resume Management system available.
Now this list of features that are important to the career building process has been brought to your attention. At this point, it is up to you to determine your own needs and desires and to locate a place that meets your needs. We at Resumizer are happy to provide these great services and continually update them with new features as career trends develop. You can begin to create yours by clicking the START button here: