Why Can't I Find a Job?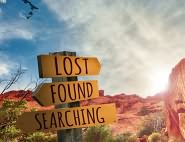 Being out of work for a long time is no picnic, neither is being unemployed in the short-term for that matter. Losing one's livelihood is not a pleasant experience by any means. Not having a job to provide an income and a sense of satisfaction is a situation that you need need to resolve as quickly as possible.
I Don't Get Any Calls or Interviews
The problem is that with a large number of applicants applying for each position, only one of them will get hired. All the other applicants will go home empty-handed. Sometimes hundreds of people apply for the same job, with only one getting hired. Are all the others unemployable?
No, as it happened in our example for whatever reason the hiring manager chose the one applicant they felt was best qualified. So what was wrong with all the others? Where they completely wrong for the position? That is what we are going to explore today. We will delve into some of the reasons why you may not measure up to your competition and strategies you can use to improve your value.
Career Help Center
Can't Find a Job? Here Is Some Help!
Don't get discouraged; you will not be out of work forever. Some people will be more qualified than you, but there are measures you can take to improve yourself. You may need to change the way you are currently
looking for work
, but if doing that gets you hired, then who cares how it happens. Do whatever is needed to get the job done!
We have itemized the problems you may be facing along with some solutions to mitigate them. Some measures we have used are listed here; you can implement them to help advance your situation. There must be a reason why you are being passed over. Something you are doing or not doing is on some level affecting the results of your job search. We have listed the most common reasons below:

You may not have thought to ask yourself these questions, do a self-evaluation to discover how you stack up against your competition. Take some time to carefully comb through your resume, cover letter, and reference page. Then iron out any problems you may find, you can then move on to optimizing each of these documents. Next, investigate your actions during your interviews as far as your dress, behavior, and knowledge. Removing small issues can add up to big gains, so correct any problems you find wherever they may be. In the end, I guess luck does have a place in all this in the sense that you need to be the right person in the right place at the right time.
What do you do next? >