Cover Letter Checklist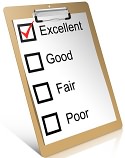 A simple way to make sure you hit all the bases when composing this important document, a cover letter checklist lets you know what to include to help you be a better writer.
What To Include in Your Cover Letter
One of the stumbling blocks to writing is often figuring out what to write. With a cover letter checklist, you can run through each included item and jot down the information you want to write. This method splits up the whole project into smaller segments. Splitting it up has the effect of making your writing project more manageable.
Upon completing the segments, you can then review what you have written to make any changes that better reflect your qualifications. With the information you jotted down for each segment, you can begin to put it all together, which can be simpler than trying to write it all at once.
Once you have developed a basic copy, you can then move on to optimizing it to precisely complement the position you are attempting to obtain. More information about optimizing your qualifications can be found in our article
here
.
Career Help Center
Cover Letter Checklist
Go through each segment; think about what you wish to write for each one. Even if they are incomplete sentences write down your basic thoughts if that is easier for you.
When you have finished that you can come back and expand on what you already wrote and fine-tune it to make it more fitting for the position.
Finally, combine the segments to form a complete cover letter refine it until you are satisfied with what it will communicate to the hiring manager. It is essential to get it right. It is as important as your resume; this is your introduction after all.
Your Contact Info
This is your full name, your mailing address, a telephone number, and your email address, these are all included so the employer can contact you if they would like to set up an interview.
Today's Date
Enter the date it was written. If you do end up rewriting a previous copy you had written earlier don't forget to change the date.
Company Contact Info
Include the full name of the person you will interview with, also put that person's title below their name. Use the complete address of the company.
Greeting
Use the name of the interviewer in your greeting for example:

Dear Mr. Green

or if necessary

Dear Sir

. Using a general greeting would be the least preferred option, take the time to locate the person's name.
Body
You can write three paragraphs if that will be enough to hold your information, you don't want it to be too long. Make it short, but long enough to say what you need to say. The use of action verbs and keywords will make it that much better.

It may help you to read our article about how to be a better writer. More information about what to write in the body can be found in our how to write a cover letter guide. The guide goes into more depth about the number of paragraphs to use, and what to put into each of one them, on this page we touch on their contents in the list below.



Opening Paragraph


This paragraph summarizes the message of the whole letter to make the interviewer want to read on.

Main Paragraph


Here you will go into greater detail about your abilities and what you can do for the company.

Closing Paragraph


If written well this will connect and tidy things up to make the reader eager to read your resume.

Closing Line
This is where you write Sincerely or Respectfully.
Signature Line
Type your name, then you sign your name in ink above it.
Would you like to use a system that guides you through each segment? You are welcome to use our Free Cover Letter Creator. You may click the START button to use it. To find out more about
writing cover letters
you may wish to review these resources: